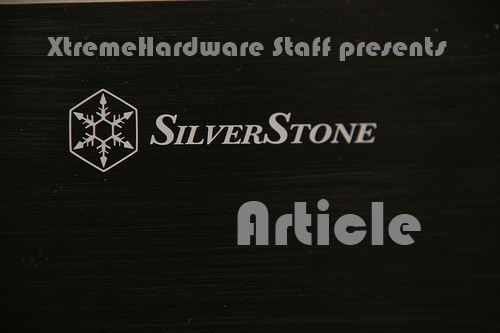 Today we inaugurate a series of articles about the famous SilverStone brand, starting with an analysis of its proprietary cooling solutions. Furthermore, we will present a series of cabinets each having different features, hence oriented to different user groups; we'll also present during the analysis several interesting products, always of the same brand.


Regarding the cabinets, we will examine the following models, several of which will be further analyzed in more detailed reviews:

ENTHUSIAST

PERFORMANCE

MINI-ITX / HTPC

In addition the following products will be analyzed:

FANS (dedicated chapter)

CAGE HARD DISK (short description)

BAG (brief description)

We would like to thank SilverStone for supplying the TJ09S-W and SG08 samples.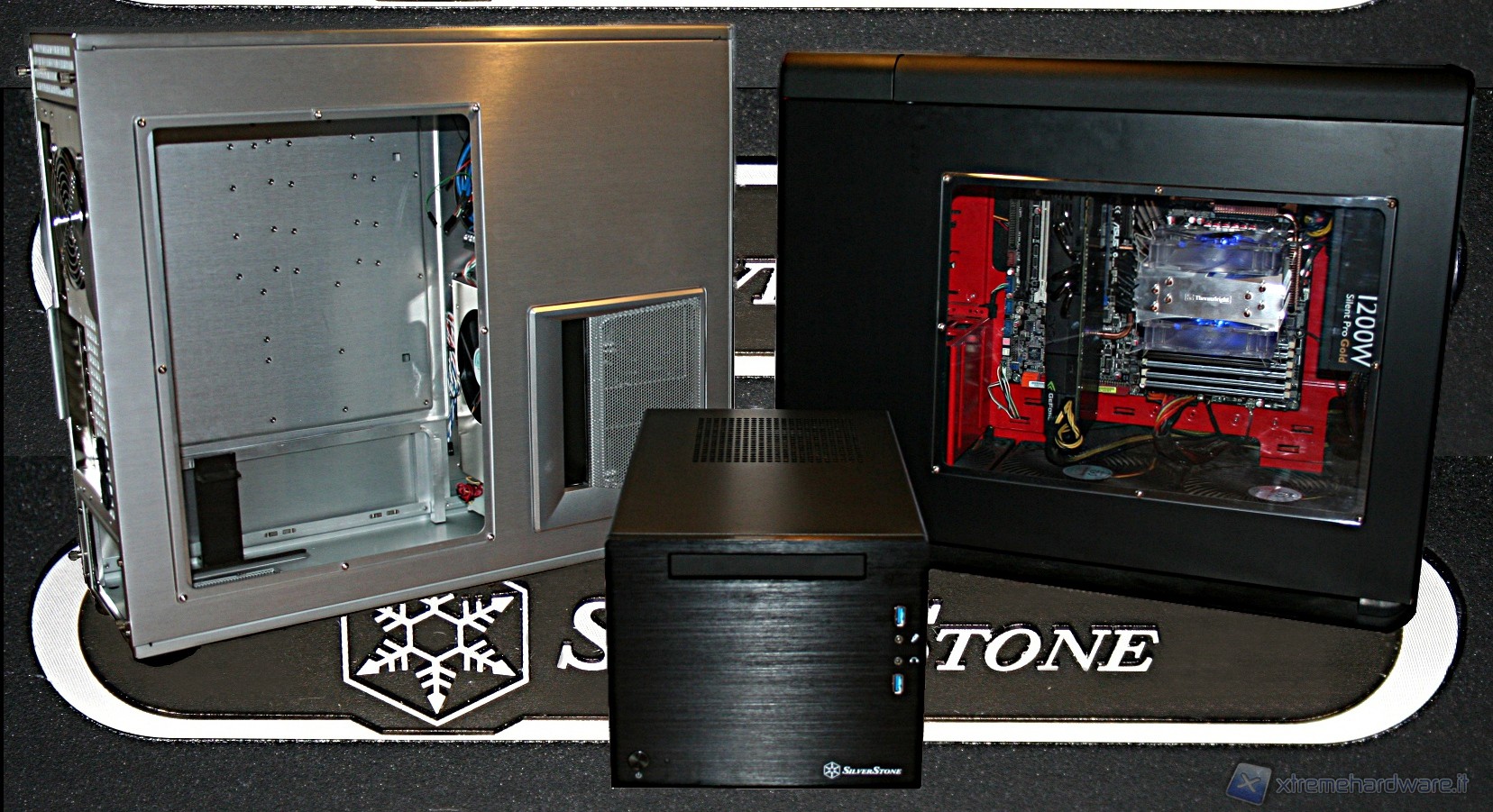 Founded in 2003, SilverStone is an established leader in its field, with an elite team of engineers; we started our quest of providing products that create inspirations. We have since expanded the lines of products as well as types of products we produce, giving our customers a wide selection of choices. With distribution centers in different areas of the globe, SilverStone products can be seen all over the world, not just for computer users but also for home entertainment use. Providing leisure with integration of advanced technologies that is functional and making them enjoyable to use. Here at SilverStone Technology, we continue to pride ourselves in providing the highest level of standards in designing and manufacturing computer enclosures, power supplies, and accessories. Our pursuit for the first class aesthetic appeal is relentless; our teams of devoted engineers are constantly searching for the best technologies that suit end-users with different needs and will make our products as technologically sound as they are beautiful.
SilverStone Technology's philosophy is based on our recognition that merely having innovative expertise within the industry is not enough. Our objective is to ensure that our expertise is delivered to all products with consistency, in response to user's needs, and with maximum user satisfaction. SilverStone Technology thrives on challenges of rapid technological advancements and creating aesthetic standard for the industry. Company Quality Policy:
Outstanding Design
Perfect Quality
Customer Satisfaction


We report a direct link to the SilverStone main site:

http://www.silverstonetek.com/product.php?pid=94&area=en
SilverStone: looking at the past and present
There have been many different product typologies of cabinets made by SilverStone, and released in the retail market, we now proceed to list all the different models in commerce (in red you will find the cabinets analyzed today):
Now you may ask to what all these initials refer. We're going to analyze them, with a short description and showing the respective photos to give an idea of the different typologies. You will find the motherboard compatibility list on the right.

SSF : Small Form Factor (SFF), low weight and dimensions, Mini-ITX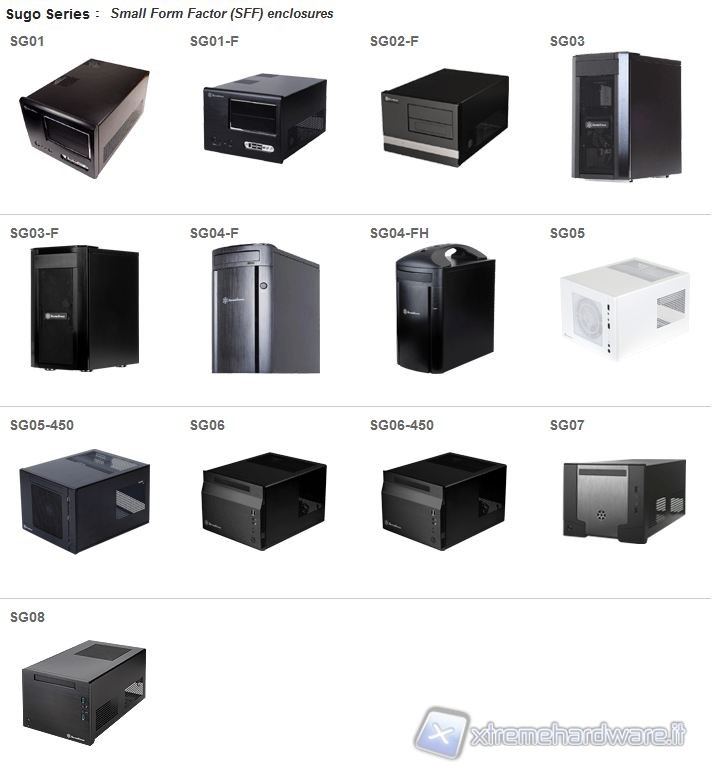 CROWN : Premium HTPC, high height, = 225mm, with a remote control. ATX/Micro-ATX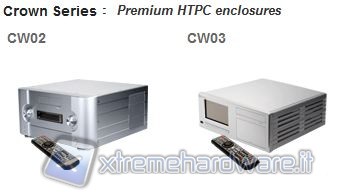 GRANDIA : Mainstream HTPC, height = 170mm. ATX/Micro-ATX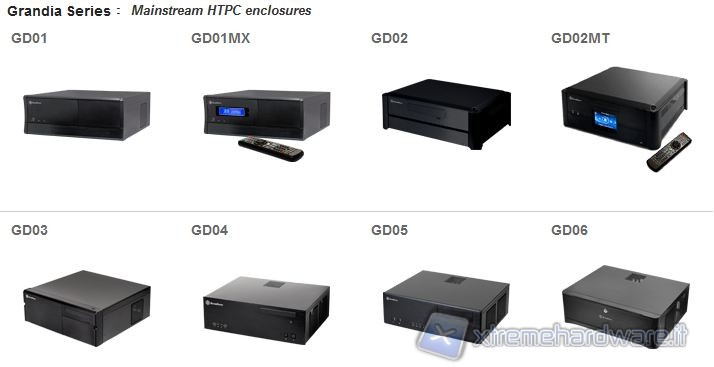 MILO : Slim size HTPC, height = 82mm, with remote control. MoDT Micro-ATX, Mini-ITX, DTX

LASCALA : Classic HTPC, height = 100mm, classical conception. ATX/Micro-ATX, Mini-ITX,
LASCALA series was originally meant to represent all HTPC cases from SilverStone. In 2006, Silverstone decided to stop LASCALA series at 20 (LC20 was the last one) and created three new series representing HTPC (Crown, Grandia, Milo) with more distinct differences.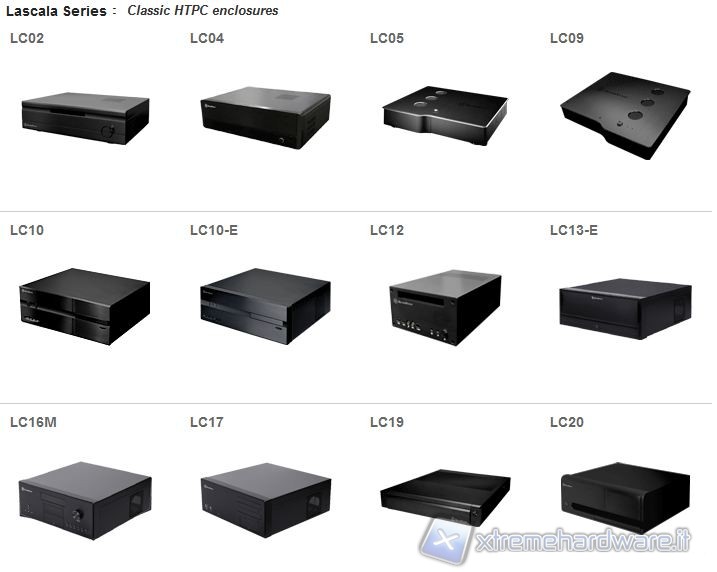 TEMJIN : Premium tower, now flagship models, aluminum. Variable Standards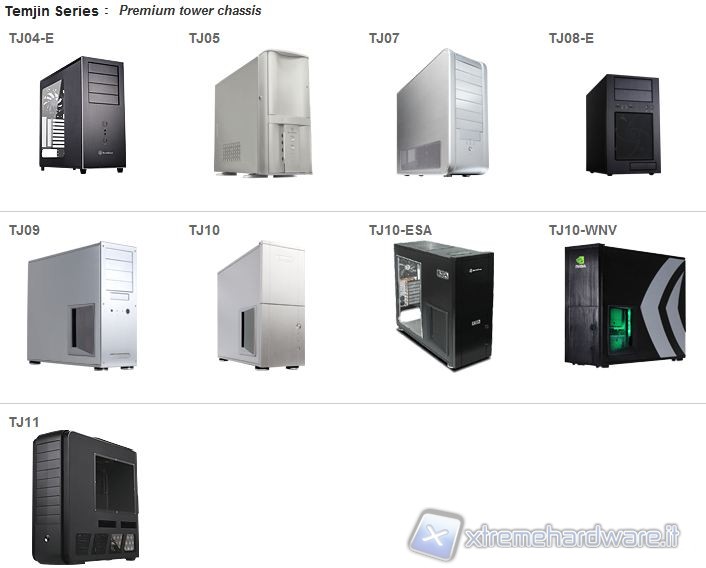 FORTRESS : Enthusiasts tower, aluminum, with excellent specs. Variable Standards

KUBLAI : Performance Tower, great quality, but with a lower price. Variable Standards

PRECISION : High-value tower with a modern look, great solutions. Variable Standards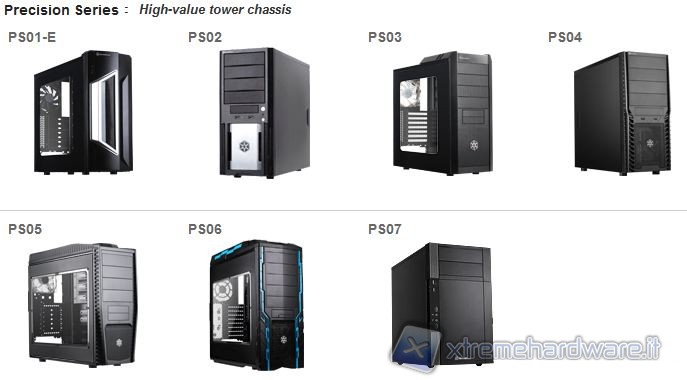 RAVEN : Extreme enthusiasts, revolutionary conception and state-of-the-art innovations

We also quote the company milestones:
2011
Jan - SilverStone releases its first smart NAS device, the Data Center DC01.
Feb - SilverStone releases the Temjin TJ11, the first computer chassis with dual uni-body construction.
Jun - SilverStone introduces a new line of desktop USB fan utilizing air channeling grille from its Air Penetrator series with the AP121-USB.
Jun - SilverStone launches the first PCI-E expansion cards in the world to feature 19pin internal USB 3.0 connector with EC01 and EC03.
Jul – SilverStone releases CP06, the first SATA power cable splitter to integrate capacitors.
Aug – SilverStone releases Nightjar ST50NF, the most powerful fanless power supply yet.
Dec – SilverStone launches Strider Gold Evolution, the first power supplies to integrate Air Penetrator fans.
2010
Jan - SilverStone won iF 2010 Product Design award with the Fortress FT02.
Feb - SilverStone announced HDDBOOST, a product designed to seamlessly combine SSD and HDD.
Mar - SilverStone introduces the first computer fan to utilize an air channeling grille with the Air Penetrator.
Apr - SilverStone releases its first retail SFX form factor power supply, the ST45SF.
Jun - The most powerful Mini-ITX case ever created, the Sugo SG07 with 600W PSU included, is released.
Sep - SilverStone releases the smallest ATX modular power supply in the world with the Strider Plus ST50F-P.
Nov - SilverStone's innovative Fortress FT03 chassis selected as an honoree for 2011 CES Innovations Award.
Dec - SilverStone launches the world's first retail computer case with USB 3.0 internal front port connector in the Milo ML03 HTPC case.
2009
Jan - SilverStone introduced Sugo SG05 and brings Mini-ITX form factor into mainstream.
Feb - SilverStone launched its first optical drive products, SOD01 (slim DVD) and TOB02 (slim Blu-ray).
Apr - SilverStone released its most powerful consumer PSU ever in the 1500W Strider ST1500.
Jul - SilverStone released the second chassis to utilize 90° rotated motherboard configuration in the RAVEN RV02.
Sep - SilverStone released Grandia GD04, the most powerful Micro-ATX HTPC & SFF case yet with three 120mm fans in 21 liters.
Nov - SilverStone launched Strider Plus series PSU, combining features from Olympia, Decathlon, Element, and Strider series into one series.
Nov - SilverStone released Fortress FT02, the first product to combine three unique SilverStone features into one chassis (stack effect, positive pressure, unibody).
2008
Jan - SilverStone NVIDIA ESA Certified Chassis, Temjin J10-ESA announced.
Jan - SilverStone announced its first gaming mouse, later named RAVEN RVM01.
Mar - SilverStone presented the Fortress FT01, emphasizing the use of "positive air pressure" as preferred airflow management.
May - SilverStone announced TJ10 NVIDIA Special Edition-TJ10B-WNV.
Jun - SilverStone announced its first chassis with 90° rotated motherboard configuration in the RAVEN RV01.
Jul - SilverStone announced ZM1200 & ZU1200 to support GTX 280 in 3-way SLI.
Oct - SilverStone won Custom PC 2008 best chassis manufacturer.
2007
Jan - SilverStone introduces Sugo SG03 and redefines SFF form factor.
Jun - SilverStone attains ISO 9001:2000 Certification.
Jun - SilverStone announced Crown CW03, the first HTPC case with 7" LCD touchscreen to support 1080P.
Nov - SilverStone OP1200 1200W powered the system that broke 3DMark06 world record.
2006
Mar - SilverStone announces its first liquid cooling device, Tundra TD01.
Jun - SilverStone released Crown CW01-WD, first HTPC case to specifically support Western Digital's RaptorX hard drive.
Sep - The first retail computer chassis with mid-section air duct dedicated for GPU cooling, the Temjin TJ09, is released.
2005
Feb - SilverStone becomes one of first two PSU manufacturers in the world to receive NVIDIA SLI certification.
Jun - SilverStone becomes ATI's hardware partner as a PSU vendor.
Sep - SilverStone announces its first chassis built from unibody aluminum frame withTemjin TJ07.
2004
Jan - SilverStone introduces its first chassis with integrated VFD in Lascala LC03V.
Feb - SilverStone Technology GmbH begins business.
Apr - SilverStone introduced its first fan-less power supply, the Nightjar ST30NF.
Jun - SilverStone's first cooler, later named Nitrogon NT01, announced.
Aug - SilverStone introduces Lascala LC10M, its first chassis to include VFD/IR, remote, and multimedia software.
2003
May - SilverStone Technology founded.
Jul - SilverStone's first power supplies, Strider ST360/ST400 released.
Aug - SilverStone's first desktop/HTPC chassis, Lascala LC01 announced.
Sep - SilverStone Technology Inc. in USA begins business.
Nov - SilverStone's first tower chassis, Temjin TJ01 announced.
OEM Services and Industrial Business Services
When SilverStone was founded in May of 2003, the goal of the company wasn't only create a high-end brand in the retail market, but also to offer services for industrial and business applications. With this approach, they were able to gain quickly substantial experiences and achieve a good standing within the industry. For industrial and business services customers, they aim to provide precision engineering, efficient production, meticulous quality control, accurate operational support, open communication, and continued global logistic and after-sales support.

SilverStone's OEM/ODM competitive advantages:
Creative Research & Development team with each member's experience ranging from 5 to 10 years.
Strict but practical manufacturing and quality control team with more than 20 years of experience.
ISO 9001 certified company operating under a functional management organization to enable higher efficiency.
Sales staff with excellent communication skills.
Branch offices located in USA and Germany to serve customers worldwide for logistic support and after-sales service.
SilverStone's competitive product lines span from PC (Personal Computer) to IPC (Industrial PC applications) fields, which is further evidence of our abilities:
Extensive experience in mass-production technology for aluminum, metallic alloy, and other metal-related products.
Comprehensive understanding of sheet metal, tooling mold, plastic injection, printing, coating, and painting methods.
Fast turnaround from ID to mechanical design, with qualified engineering drawings.
Proactive approach with the ability to overcome typical thermal and mechanical design limitations.
Know-how in maximizing space utility for any given size.
For PSU (Power Supply Unit), SilverStone is capable of designing and supplying:
Highly efficient PSU with ability to meet stringent environmental requirements and also third party certification such as 80 PLUS.
High wattage PSU currently up to 1200W in ATX form factor and functional in all typical AC input range.
PSU designed for specific focus on any of the required output rails.
Low noise and low heat outputting PSU upon request.
Non-ATX/PS2 form factors such as TFX, flex-ATX, Redundant, open-frame, and other non standard sizes.
SilverStone also supplies other product such as cooling devices with TEC (Thermo Electric Coolers), LCS (Liquid Cooling Systems), fan (Air Cooling), and enclosures for hard drives.
Why SilverStone? Some useful Interviews
We report some interesting interviews to SilverStone, made in these years. We thank SilverStone for the material used in this chapter.
Company History
SilverStone Technology was founded in May of 2003 by a group of engineers that previously worked on many aluminum cases for another company, so they were able to release in the market very quickly new design and cases as a result. Seeing that there were many areas in which they could improve HTPCs, they focused heavily on making cases for the living room. Although they're first major breakthrough in terms of major award came from a tower case (TJ03), it was however HTPC cases that they're more known for in Europe.
Over the years they made some great achievements, like bringing new HTPC features to the mainstream such as integrated VFD, multimedia remote, upside-down motherboard layout, reverse, PSU mounting, hotkeys, tuning knobs, touchscreen, etc… For those not familiar with HTPCs, it will be quite shocking to see the SilverStone case lineup for the first time because of the variety that is present in this category.
They also have several industry firsts in case design such as swivel cut front panel (TJ02, February 2004), first retail SFF case designed to fit Micro-ATX motherboard and ATX PSU (SG01, March 2005), first unibody designed case (TJ07, October 2005), first HTPC case to have Western Digital RaptorX window (CW01-WD, March 2006), first SFF with dual 120mm fans (SG03, January 2007), and first HTPC with 7" LCD supporting 1080P (CW03, June 2007), etc…
We'll report directly such interviews.
Ventilation, solutions and concepts
We prefer to use fans that can still be used to fit the width of the case, so you don't use fans to go larger than 20 cm in diameter. Even if you put an even bigger fan on the side panel, to help cooling the graphics card, it won't always be an improvement, in general terms. A well-designed case should not rely on ventilation, right on the large side panel, with the aim of good cooling performance. We have shown that this is true especially with the TJ10, which is officially certified for use with NVIDIA 3-way SLI. Many of our customers prefer to use their own fans so we don't always include all the fans necessary within our cabinets. Even if we were to offer models of fans that can be adjusted in terms of speed, even in this case they may be dissatisfied with the quality of the included fans (for example, they may need a higher top speed or a certain color, or even LED ). The fans are now including a 3-pin connector, so that the user can connect them to the motherboard, which now offers many voltage settings. The speeds are usually aimed at maintaining a low noise level, but without sacrificing cooling performance provided by the cabinet. Undoubtedly, the ''PWM'' factoris a nice feature to have in a fan, however, we believe that there are better solutions. We prefer to control the fan speed, based on ambient temperatures, this is what we used for our solutions in the series "SUSCOOL". This element can effectively change much more than what is possible with a PWM controller. It 'also pretty annoying to hear a fan constantly speeding up and down due to the sudden change of temperature ! If an heatsink is large and passive, but is not installed into a good cabinet, it doesen't work well. This is why SilverStone publishes and include all the necessary information to users, to specify exactly how our heatsink are able to work with a cabinet model, to obtain good performance partially or totally passive.
Liquid, heat dissipation and noise
We also think that the liquid solutions are a great way to achieve high performance with minimal noise. Although we do not sell more than a watercooling kit, and even if there are air-cooling solutions that can sometimes match these solutions, liquid systems are still supported in our cabinets. If you notice many of our tower cases, especially the Temjin series, have always been favourites between the users, about watercooling cabinet solutions. We are very proud that our TJ07, which was published in 2005, is still a favorite of cases for watercooling enthusiasts today 's world. We designed our cases with the boxed retail heatsink Intel or AMD, as its primary objective. The design of a case that works well with the boxed cooler, however, does not mean you need to have a side duct. Certainly we can design special CPU cooler, to work better in some of our cases, but not design a case by imposing a particular form of heat sink. We haven't considered the addition of heatsinks to one of our cases in the bundle, and we don't think that is a topic that we will face soon. Regarding the killing of the noise, the best strategy to reduce noise is to design a case with the best possible cooling performance. If the layout of the case helps to keep the airflow smooth and efficient, then you can use slower fans for cooling. The choice of a good fan, vibration-free results also permit a more silent environment.
Vibrations, build quality and materials
To reduce vibrations, a case should have a greater structural rigidity as a possible starting point. We test the prototypes of cases with all the latest components on the market to simulate the real conditions of use. Even if we make the measurement of environmental noise, as part of our test, we found that often subjective listening usually works just as well. Most of the frames of our cases have been designed entirely by our team of engineers. Among the 45 models we have now, there are only 10 frames, which are based on standard mold designs that only then would then modified according to our specific needs for cooling and mounting. For example, however, on the heatsinks, we have contracts with our partners for the direct production of heatsinks and fans, we tend also to do a mix between our internal design and instead a possible adoption of new innovative competition. In a small scale we are also OEM distributors, despite the fact that our reputation and our brand is widely known for the retail market. Thanks to our partner network we're able to have a wild distribution of products worldwide. With regard to the construction itself, aluminum is great for the construction of beautiful cases and the overall weight savings. We're very good with regard to the processing of aluminum into elegant shapes, which helps to create projects that might not otherwise be created even if we used the steel as the base frame. There are pros and cons, these are obviously the cost, and its tendency to vibrate more of steel. Although we can not really do anything for the cost, we can reduce vibration by designing cases with thicker, or more generally reinforced. We think that a design that allows use of the case without the aid of dedicated hardware, is a great factor, in fact we use many models that have these features. However, there are certain types of customers who prefer to use screws to also have those types of cases. In general we have no particular preference, but we are seeing the trend of the market and seems to be moving towards more design without screws.

For example, this is the line of production of the famous Silverstone FT-02:
Power supplies, voltage and stability
At this moment it is true that as our PSU 1200W models are more powerful than a good part of high-end systems they really need in terms of required power, but we think there are still some advantages:
Most PSUs reach their maximum efficiency at medium load conditions, to use a more powerful PSU in 'high-end performance of the system, which will result in greater energy efficiency.
For overclockers, having a power supply with extra reserves can ensure that even in extreme conditions, the power supply can still provide stable output power.
The demand for more computing power and graphics are still growing and we are seeing more games and software to exploit multi-core CPU / GPU, therefore. Knowing this, we expect high-end systems continue to increase the threshold required by the power supply, which must necessarily be high-power, and will not stop for some time in the near future.
Regarding the number of channels, while the tendency was to abandon the single-rail for the multi-rail, it seems that we are now seeing the reverse trend. But really what are the needs and characteristics of a single-rail? The modern PC, now based in large measure from +12 V with literally thousands of combinations of components, if one takes into account the 'overclocking, there are many possibilities that we can go short on energy, for a multi-rail power supply in one of its channels, because of OCP (Over Current Protection). Given the high power of the PSU, a single +12 V rail is usually preferable because it will make the most of the PSU. We made this very early compared to most of our competitors, and so we have long established a full model line of PSUs such as OP and the Decathlon series, which has a single +12 V rail to meet the most demanding users feeding, overclockers and also all our PSUs have the SCP (short circuit protection) to avoid the overhead of a cable through a short circuit, then the mono-rail is not an issue with regard to a possible overload.
Some examples of SilverStone innovations
In the following video we begin to understand why Silverstone is one of the most innovative brands in the industry, which will be analyzed in the CP05 Auxiliary adapter Kublai KL02 cases, hot-swappable. It is practical and quick to use and we highly recommend it because it can be easily be integrated in the KL-02 without the need of cumbersome additional hot-swap modules.
Another interesting product is the mouse named SilverStone RAVEN RVM01, notable also for tracking capabilities in non-conventional areas:

The following video shows you why Silverstone is also very popular in the PSU sector: ladies and gentlemen the Zeus 1200W model! It is worth noting the degree of automation achieved by this brand:
Know-How Silverstone : positive pressure and stack effect

What is meant by positive and negative pressure inside a cabinet?
The following videos are related to the first model of Raven 1, where a smoke machine is used to show what the commonly called "stack effect" is. The stack effect in a cabinet means the natural movement of the warm air from bottom to top. In the Raven 1, the presence of a 180mm fan in the lower position, combined with the rotation of 90 degrees clockwise of the plate of the motherboard, as shown in the video, allows a better management of the internal airflows and lower temperatures on all the components, removing at the root also the potential internal recirculation of hot air. With this cabinet, the RV01, Silverstone debuted for the first time with this very special interior layout, revolutionizing the common conception of chassis for PC:
In the next videos the analyzed phenomenon is the positive pressure inside the Fortress FT01 (a windowed black version). It's very interesting to see the SilverStone continuous research for innovation from the thermal point of view. We can assure that a case like this is still a jewel of innovation, process, technique, style and functionality. Thanks to this innovative system we managed to keep a Macho HR02 heatsink in passive configuration on an Intel Core i7 920 at default and slightly overclocked settings. As shown in a previous review, temperatures of such a fanless configuration are just slightly higher than fan-equipped coolers. Impressive at least!
Next video shows the SilverStone SG03 SSF case, with a positive pressure system too, together with the Silverstone NT-06 cooler. As previously stated, this system allows an optimization of the fresh air flow really remarkable. Let's see the smoke machine test:
General purpose cabinets usually have many fans, some fans are designed for extraction and other for intake. When the combined air flow of intake fans is higher than the combined air flow of exhaust fans, positive pressure is created inside the cabinet. Instead, when the airflow is greater for exhaust fans, then a negative pressure is created.
How do the positive and negative pressure influence the air flow in a cabinet? The main difference between positive and negative pressure is the way they affect vents and other ventilation slots of the chassis. This picture shows an example of a modern high-performance case, with additional air intakes that aren't occupied by the cabinet fans. These openings can work either as exhaust or intake depending on whether the cabinet has a positive or negative air pressure, respectively.
The ventilation grilles are not the only place in the chassis that can be affected by the dynamics of incoming and outgoing flows: also fissures, shown in this photo, may be called into question. This is a first benefit from positive air pressure: dust removal. New models of cases usually include filters to avoid accumulation of dust inside the cabinet. If the case has a positive pressure, only the dedicated intake fans will require filters to reduce the total quantity of dust.
The diagram shows clearly that the cabinet with a positive pressure can prevent the accumulation of dust, thanks to dedicated filters placed in front of fans, which push the air out through openings where there are no appropriate filters. The idea is to use positive air pressure to build dust-proof cabinets, similar to the concept of cleanrooms, where filtered air pumped in with positive pressure helps keeping out the dust from the room. These rooms are used in fields like Hi-tech, medical and food processing systems, to prevent contamination or dust. Regardless of their size and their level, they are built to maintain a positive air pressure to remove dust.
The other benefit of positive air pressure is maximizing the efficiency of the heat sink video card.
Left, partially closed cooler - Right, totally closed cooler
Generally all the video cards are studied to exhaust hot air outside of the case, to limit the reintroduction of hot air inside the cabinet itself.
Partially closed cooler: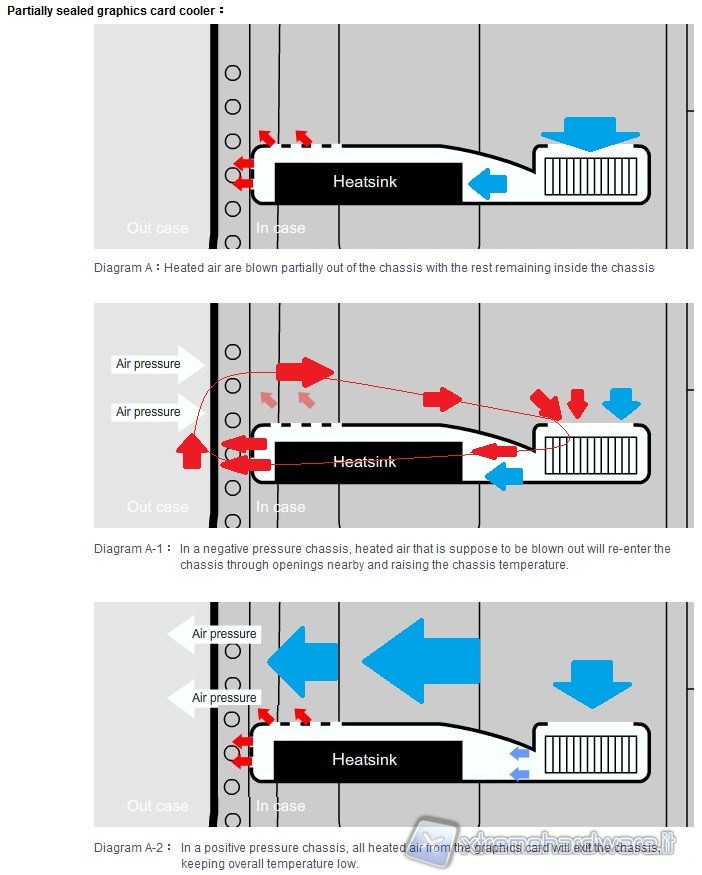 Totally closed cooler: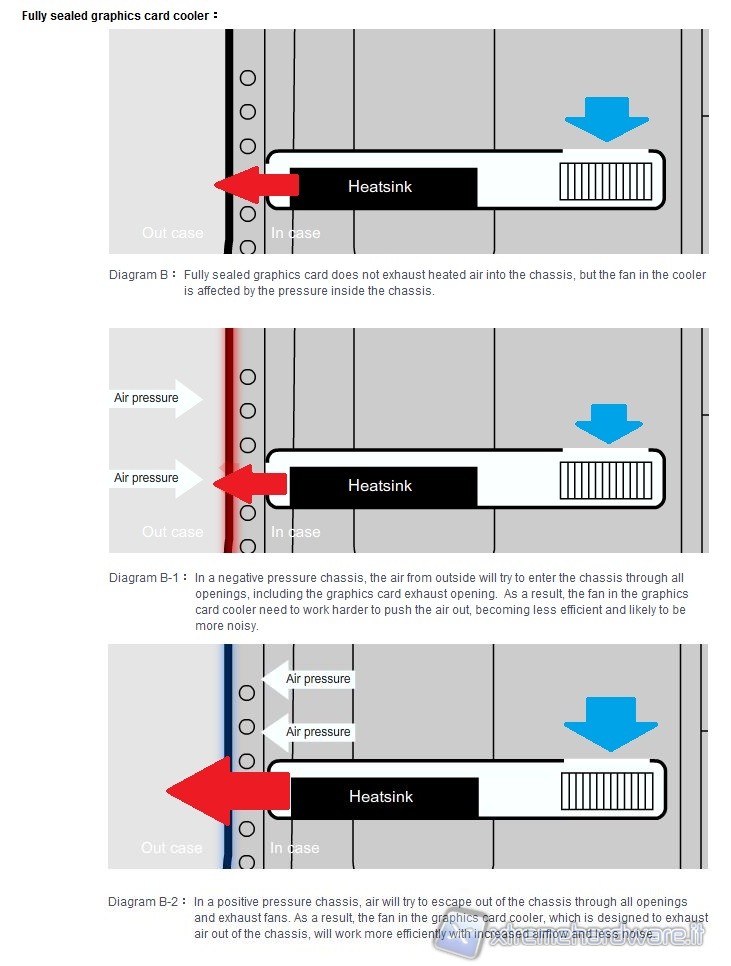 Taken from: http://www.silverstonetek.com/techtalk_cont.php?area=usa&tid=wh_positive
We also thank SilverStone for providing materials and pamphlets.
Air Penetrator? What they're up to?
We have already mentioned this type of product, but what are we talking about exactly? SilverStone, always careful in finding advanced solutions for heat dissipation, have started selling in the market the new revolutionary Air Penetrator fans. This new model revolutionizes the concept of the common fan, as we are used to consider it. In particular the use of a grid placed in the direction of the air flow generates, together with the type of blades used, a twisting spiral directed toward the front of the fan itself.
Common fans without this particular solution tend to push air to the side, with a large loss of efficiency in the creation of a frontal laminar air flow. With the AP series Silverstone begun to increase the generated static pressure, making these fans the ideal partners for heatsinks and radiators. With this design, the noise level is slightly higher than in the traditional fans, and the air flow is generally lower, but the benefits are very clear in terms of general efficiency of heat dissipation. The Air Penetrator fan series are certainly among best products on the market.
In particular the AP181, represents the best fan we can find on the market. Exceptional build quality, excellent sleeved cable, and the presence of a small speed controller are the features that increase the AP181 value and nevertheless the price is not high at all.

You can find more information about this fan in the Silverstone web site:
http://www.silverstonetek.com/product.php?pid=258&area=en
Let's take a look to their specifications and to the package.
AP121 TECHNICAL SPECS
AP 181 TECHNICAL SPECS
We've tested the performance of the AP121 fans in our test lab, and as you will see the results are really interesting, especially the loudness and the static pressure. We decided to compare the temperatures obtained with a Thermalright TRUE Spirit 120 equipped either with two 120x25mm Prolimatech BlueVortex 120 fans or two Silverstone AP121, both in a Push/Pull configuration. The test system it's the same we've used in our last reviews and the specifications can be found in the testing chapter.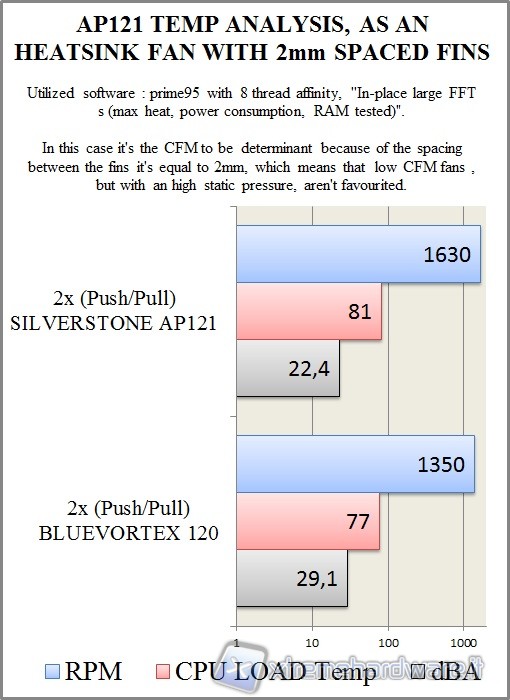 If we take a look at the specification it's clear that we are in front of a great fan since the static pressure compared to the overall noise level it's amazing. Unfortunately, we must note that the Air Penetrator fans are disadvantaged with high-spaced fins heatsinks, because they generally need a high flow rate (CFM) for better results. The Air Penetrator series are characterized by an excellent static pressure and low noise level but they are really deficient on the air flow side (only 35.36CFM), which is limited by the spiral filter. These fans are highly recommended with heatsinks that require high static pressure, with radiators with a close fin structure, or as chassis intake fans. Here you can see some pictures of the package, the bundle and the AP121 SilverStone fan:
It's very interesting the presence of an Y-cable, with a 3-pin connection for two fans, and four excellent anti-vibration grommets.

This video will help you understanding the real potential and the characteristics of this new fan series by Silverstone:
In the next pages we'll analyze other Silverstone innovative solutions for the heat dissipation. We'll take a close look to the following models together with the technical characteristics of each chassis:
FT01 POSITIVE PRESSURE

FT02 STACK EFFECT

RV03 STACK EFFECT

TJ09 VGA AIR DUCT

SG08 POSITIVE PRESSURE
NOTE : Red marked chassis will also be part of a more detailed review, soon
FT01–Black. Direct analysis of the positive pressure and technical details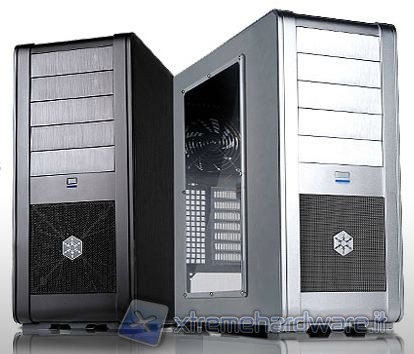 More than two years after the introduction of the world's first uni-body PC chassis, the SilverStone Temjin TJ07, a new product line was created to extend this unique construction further into other applications. Let's see what "uni-body" stands for. The main structure for these cabinets is crafted from a single solid extruded aluminum panel using a process never seen before in PC cases. In fact, generally the panel is arched precisely on two sides with automotive-caliber press machines to create the top, front, and bottom sides of the chassis. The end result is an aluminum chassis frame with more than twice the structural rigidity over average steel cases, helping to practically eliminate vibration-induced noise. Thanks to this process, SilverStone engineers was freed to place more large fans at strategic positions to significantly improve cooling while keeping noise to a minimum. The first model for the Fortress line is the FT01, which sports the same super strong uni-body frame as its predecessor but with even more sleeker profile thanks to its smaller size. Designed for positive air pressure, it enables better cooling performance than traditional chassis. It helps to prevent dust from penetrating into the chassis using filters on the intake fans and forcing air out of the chassis through unfiltered vents and gaps. Filled with innovative solutions such as quick release drive cages and dual 180mm fans, this case is easily the top choice for anyone looking to assemble a top of the line midsize system.

Let's summarize its most important features:
Positive air pressure design optimizes cooling performance
Uni-body frame construction from the flagship Temjin TJ07
Artful, understated design with excellent ergonomics
Dual 180mm silent fans included for outstanding cooling and quietness
Minimal use of rivets for maximum serviceability
Highly flexible drive storage options with hot-swappable SATA adapter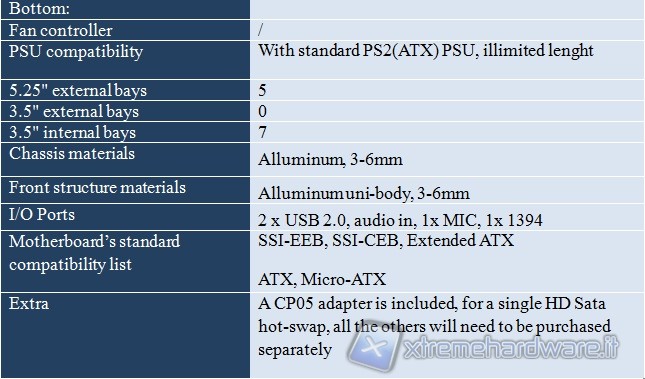 FT01 can support 10.5" consumer level graphics cards. The support for this type of cards does not require HDD cage to be removed. FT01 can support 12" workstation level graphics cards.
To support such long cards, the middle HDD cage must to be removed.

Positive pressure demonstration with this model :
http://www.silverstonetek.com/techtalk_cont.php?area=usa&tid=wh_positive

Positive pressure demonstration, part 2 :

Other interesting video about the FT01 capabilities :

Direct link for the manual's download:
http://www.silverstonetek.com/downloads/Manual/Multi-FT01-Manual.pdf
Direct link for the SilverStones's Question&Answer pamphlet:
http://www.silverstonetek.com/product.php?pid=200&area=en
Direct link for the SilverStone's suggested products, compatible with the FT01: http://www.silverstonetek.com/product.php?pid=200&area=en
FT01–Black, Part-2
Now we'll analyze this beautiful cabinet. We start by describing quickly the outside, then we move inside and finally we explain the main design goals. It looks like that the cabinet lines are balanced, sober and classy, with a brushed aluminum black front, 5 x 5.25'' frontal bays, an elegant power button, in the middle, and a front grille that hides a 180mm fan. Due to the uni-body construction, derived from the previous flagship TJ07, the quality is very high. At the top we find the usual USB 2.0 connectors, microphone and audio jacks, along with a handy tray to accomodate USB flash drives and every kind of accessories that you can imagine. They implemented a particular hard disk management system, which makes this solution a very modern one. In addition, we find an upper ventilation grille for a second 180mm fan; many will wonder why this choice. Wasn't it better to put it in extraction mode ? Absolutely not, the positive pressure system permits to cool the CPU heatsink in a better way, and we've measured by our hand this concept in our Thermalright Macho dedicated review. This positive pressure system even allows to cool passively some heatsinks, and this is a remarkable result !

Further explanations about the air flow in the FT01 can be found at this address:
http://www.silverstonetek.com/techtalk_cont.php?area=usa&tid=wh_airflow
The FT01 is a small concentration of advanced know-how in terms of heat management in a modern chassis. This case allowed us the installation of the Thermalright's "HR02-Macho" heatsink in a totally passive configuration with great temperatures. Unfortunately this tests have been made some months ago, and we didn't carry out professional measurement, following our test standards. We've tested the FT01 with another Thermalright heatsink, the "True Spirit 120".
The side walls are equipped with sound-absorbing material, to make the case even for a HTPC system, or even for system with sound registration functions. Opening the right-side panel, we are in front of a well-ordered structure. The air flow is well studied and we can see a good cable management system. We've got an excellent arrangement and practical positioning of dust filters, removable for the two 180mm fans but not for the power supply fan, which is placed at the base. The retention plate of the motherboard is very good, as well as the rear ventilated grids, which allow the already mentioned phenomenon of positive pressure. Even today, after more than 3 years from its launch, this cabinet is a very interesting choice of purchase, and it implements even modern features as regards general component's cooling.
It's available in two versions: the first one it's with the side panel closed and soundproofed, the other one instead it's arranged with a windowed panel. We can purchase this unit with silver and black colors. The disk management, as we've said before, is exemplary, with two removable and very practical HD cages. The FT01 supports even the proprietary hot-swap adapter CP05 (only one CP05 it's bundled but you can purchase more). In the upper part we got some more air vents and we have also an excellent compatibility with large heatsinks, however we could face some mounting issues with very large motherboards, such as the Asus Rampage II Extreme, whose installation could be really uncomfortable. It was designed primarily for a silent use, possibly targeting an audience of enthusiast users. For them, its high price, justified by the outstanding features, will not be a problem.
Let's close this chapter with some more photos of this magnificent cabinet.
FT02. Stack effect description and details

Combining two of SilverStone's most distinctive computer chassis breakthroughs (the unibody construction of the Temjin TJ07, introduced in 2005, and the 90-degrees rotated motherboard mount of the RAVEN RV01 from 2008) the Fortress FT02 advances both chassis construction and thermodynamics in a forceful, streamlined design. With the Fortress FT02, SilverStone engineers have combined the rigidity of unibody construction with the unparalleled cooling layout of the RAVEN chassis, adding a hot-swappable hard drive cage and an acoustically padded interior for maximum versatility. The result is increased structural strength, increased storage capacity, and whisper-quiet operation. Available in black, silver and black-red (limited edition, 1000 units in total, with 3x AP181 180mm fans) colors, its elegant outer shell is perfectly accentuated by the U-shaped unibody aluminum frame that not only provides unique styling, but also functional purpose. The bottom gap from the frame to the main body actually serves as the main air intake area for its three massive 180mm fans, making it even suitable for use on carpeted surfaces. For professionals and enthusiasts looking for a silent workstation or gaming machine with maximum performance, there is no better solution than the SilverStone Fortress FT02.
Let's resume its features:
Revolutionary 90 degree motherboard mounting (from RAVEN RV01)
Innovative 4.5mm aluminum unibody frame (from Temjin TJ07)
Three 180mm fans for unprecedented positive pressure and stack effect cooling
Supports liquid cooling radiator mounting
Motherboard back plate opening behind CPU area for quick cooler assembly
Supports 11" wide ATX motherboard
Foam padded interior for advanced noise absorption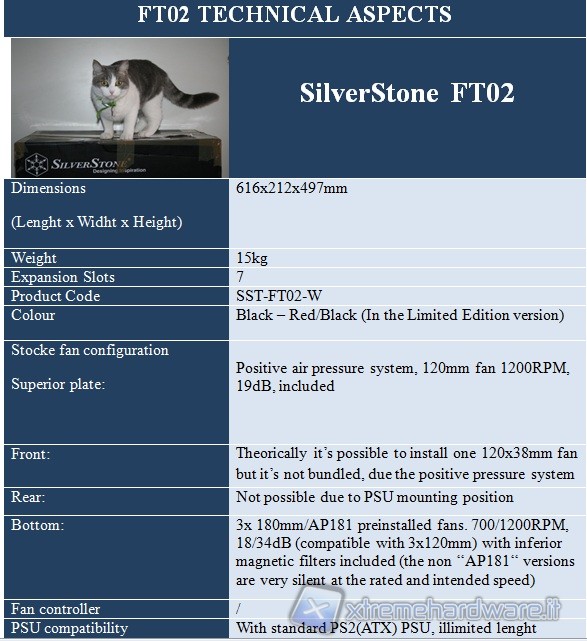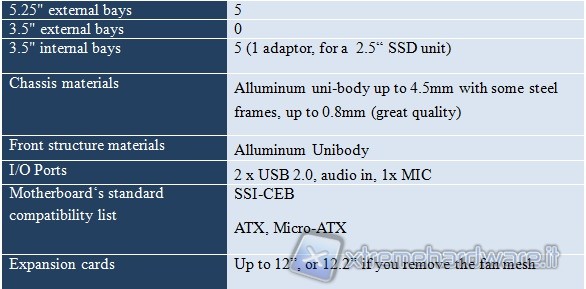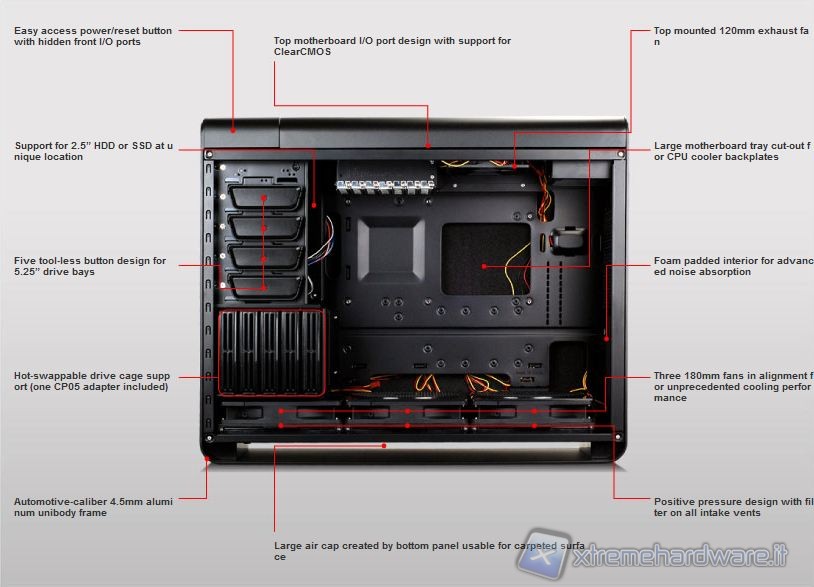 Direct link for the manual's download:
http://www.silverstonetek.com/downloads/Manual/case/Multi-FT02-Manual.pdf
Direct link for the SilverStones's Question&Answer pamphlet:
http://www.silverstonetek.com/product.php?pid=242&area=en
Direct link for the SilverStone's suggested products, compatible with the FT02:
http://www.silverstonetek.com/product.php?pid=242&area=en

We will examine the hard disk cages in the full review. You can find an overview at the following links:

• SilverStone CFP51, http://www.silverstonetek.com/product.php?pid=40&area=en
• SilverStone SDP09, http://www.silverstonetek.com/product.php?pid=278&area=en
Regarding the detailed review of this case, we'll refer to a future and dedicated article, which will be published very soon. Please stay tuned because we will review the Limited Edition version, of which have been produced in only 1000 copies! Do you want some pictures to understand what we're talking about? Delight your eyes:
RV03–Black. "Stack effect" and details
The RV03 is the result of the effort made by the RAVEN development team, in order to redefine and improve the enthusiast tower chassis line. The Raven RV03 spots world-class cooling performance derived by the previous RAVEN chassis models and obtained by the two 180mm Air Penetrator fans. A rethinking of the interior layout has enabled dramatic reduction in overall depth of the chassis, compared to RAVEN RV02, while still matching RAVEN RV01's ability to accommodate Extended ATX motherboard and graphics cards longer than 13 inches. Cable management has been also improved with a new 5cm thick hard drive compartment to allow nearly all cables to be connected behind the motherboard tray with ease. The unconventional power supply compartment located in the lower front of the chassis facilitates cable routing, so anyone can assemble a nice- looking system with maximum airflow efficiency. Champaign colored bands adorn the exterior characterized by aggressive lines, complementing the carefulness of the interior. The stand out styling takes advantage of the chassis' powerful cooling ability to change the inclination of a set of smartly designed, dual-purpose front bezels that helps to keep the RV03 looking sharp and uniform whether the user is setting up for maximum air cooling or for a silencing build.
As a trend-setter and a computer chassis engineering showcase, the RAVEN RV03 has few equals. However, its advanced features are equally accessible that anyone from experienced enthusiasts to novice users will find easy to appreciate and utilize, making RV03 the most appealing RAVEN chassis yet!
Revolutionary 90 degree motherboard mounting (from RAVEN RV01)
Includes two Air Penetrator 180mm fans for superb performance and quietness
Support up to seven 120mm fans for exceptional cooling flexibility
Motherboard back plate opening behind CPU area for quick cooler assembly
Supports Extended ATX motherboard
Supports eight expansion slots and graphics cards of any length
Mandatory cable management design for clean looking system on every build
Hard drive compartment with independent cooling zone
Upscale and aggressive styling with dual-purpose front panel bezels
Direct link for the manual's download:
http://www.silverstonetek.com/raven/download/Multi-RV03-Manual.pdf
Direct link for the SilverStones's Question&Answer pamphlet:
http://www.silverstonetek.com/raven/products/r-qa.php?model=RV03&area=en
Direct link for the SilverStone's suggested products, compatible with the RV03:
http://www.silverstonetek.com/raven/products/r-recommend.php?model=RV03&area=en
RV03–Black, Part-2
Now we will analyze one of the cases that recently have met a lot of success in the market, the SilverStone Raven RV03. It looks like a cabinet of modern style, aggressive, but certainly not a simple one, with a front bay with up to 7 x 5.25" slots, a ventilation grille on each of the aforementioned slot, and two 180mm AP181 fans below. We got also modern power and reset buttons at the top front, to the left and right. Tanks to the construction and assembly with high quality steel, similar to the previous model RV01 but with several improvements, the quality is high, although we've got some hard plastic frontally and to the upper part, but in the end even here the quality is good. It recalls the basic idea of the Black Crow (Raven), concept that we can find in many old cult movie that some enthusiast people should remember... However, at the top we got the usual USB2.0 ports, in a concealed compartment, microphone and audio, along with a fan controller, where you can select the rotation speed of the two underlying AP181. Intentionally, there isn't any frontal HD bay, on the contrary there is a revolutionary system in the left lateral side panel, which allows the assembly of several data storage devices in a vertical position, all in a separate partition, and ventilated by a 120mm fan (optional). This very thick compartment allows great wirings and aesthetics. In addition, there is a front ventilation grille for each removable front-plate. Many will wonder what we're talking about. Well, we give you a visual demonstration:
In the frontal panel we can even mount a giant integrated liquid-cooling heatsink, even a dual-fan style one like the Corsair H100, like we did in this review
http://www.xtremehardware.com/cooling/liquid/corsair-h100-201110315957/4/

Let's report a quote from the H100 review:
"The temperatures obtained by the H100 are the best recorded to date, just above the H20 920 made by the Antec, especially in Push / Pull. By installing the H100 in the Raven 3, the temperatures have risen about just 3 degrees, demonstrating the excellent performance in environments with less ventilation".
Although the result wasn't very high, due to the orientation of the cooler itself, the interesting fact is that it was possible to mount this kind of heatsink in front of the cabinet, and firmly! This is a clear indicator of the excellent design of this case, and its very good internal layout! In few other cases we could have done such a thing.

Regarding the famous Raven Series, we report a video directly made by SilverStone, showing an RV01:
The side walls are equipped with noise-absorbing material, but the left one is windowed; this gives an excellent overall aesthetics and we could even add aftermarket light systems like for example LEDs and neon lights. Opening the right side panel, we can see a structure really unconventional, but even here Silverstone engineers have studied the air flow up to the smallest detail. Also, an exemplary cable management can be easily achieved! The arrangement and the practicality of the two dust filters is very good: they are removable thanks to a magnetic system and they are present for both the 180mm fans and for the power supply fan, which is placed at the base. Very nice is the retention plate for the motherboard, which also features a rear opening for a quick installation of aftermarket heatsinks. The possibility to implement an additional 120mm fan in the rear, thanks to a ventilated grille, is very interesting too.
The Raven RV03 is also available in a cheaper version, with black coloring. The disk management is revolutionary, although the FT01 is still better. In the RV03 disks must be accessed by the right side and it doesn't allow hot-swap adapters, unfortunately. In the upper part there are several air vents and the RV03 grants a great compatibility with large heatsinks and with very large motherboards, such as the Asus Rampage II Extreme, whose installation would not lead to any particular problem. Here you can see some photos of the impressive RV03:
We report a note about the temperature test of the Thermalright HR02 Macho heatsink, which has been mounted inside this cabinet, even in a fanless configuration. Thanks to the astonishing ventilation of the RV03, we've been able to bring the CPU up to 3.4GHz without fans on the heatsink!
"As shown by the graph, it's evident that we are in front of a product that can achieve excellent operating temperatures. We were really surprised to see that this brand new heatsink held very good an Intel Core i7 920 with 130w TDP, in a fanless configuration (thanks to the excellent active heat dissipation of the two AP181 SilverStone fans, in the RAVEN3)! This result is remarkable. With the processor overclocked to 3.4 GHz, the situation starts to get complicated with a fanless configuration, otherwise if we install the Thermalright bundled fan it barely changes. Finally at the frequency of 4 GHz, the HR02 Macho can cope with the i7 920, in a very efficient and silent way."

Link to the review: http://www.xtremehardware.com/cooling/air/dissipatore-cpu-thermalright-hr-02-macho-201109055664/6/
We performed also some test of the Alpenfohn Peter VGA cooler, inside the Raven3 with its classical configuration, and rotating it of 90 degrees, in order to emulate a common cabinet design: http://www.xtremehardware.com/cooling/air/alpenfohn-peter-201109125697/4/
Results of VGA tests, which you can also find in next chapters, show , that this cabinet can be more efficient than other much larger models, thanks to the excellent internal layout.
TJ09S-W Silver. "Air Duct" and details
With the Temjin TJ09, Silverstone made his own first cabinet design with the dissipation of graphics cards as one of its priorities. To achieve this, Silverstone engineers created a new ventilation system with a dedicated air channel called ''Air-Duct", located in the lower part, which allow the intake of cool air from both side walls, thanks to an internal 120mm fan. Both the CPU and Hard Disk Drives are cooled by a dedicated 120mm fan to maximize the airflow and to reduce the noise (for the hard disks the fan it's optional). Designed with lines belonging to the past, the TJ09's advanced structure is second only to the TJ07 "Unibody" design. Of course, it's not possible to call it a Mid-Tower, in fact it is much larger than the common standard but these are good news for those who intend to create a powerful and balanced system. In short, we are in front of a product which is looking very classic, but it does not fail to impress for many of its features. SilverStone has accustomed us to pull the rabbit out of the hat, and today we'll show you some of its features, but we also want to remind you that this cabinet will be reviewed soon, in a standalone and more detailed article.
There's the implementation of a proprietary cooling system for video cards. This is a dedicated ventilation duct that will allow the entrance of fresh air in front of the VGA's PCB. This system will decrease both the temperature and the noise of graphics cards. Such a system has never been implemented and SilverStone in this field had always been at the frontline.
All aluminum construction and a state-of-the-art manufacture, high overall stiffness and low weight. Maximum compatibility with standard ATX design, E-ATX, SSI, Micro-ATX. Advanced Layout, rivets reduced to a minimum, and advanced management of internal compartments
Design with minimum size of fans of 120mm for high performance and low noise (we would like to point out that has become a Silverstone production standard, and very often 180mm models are installed).
Semi Tool-less Layout, for an easier assembly (though we want to point out that SilverStone could adopt better solutions, because a large amount of screws are still needed)
Styles and finishes that meet very high SilverStone standards
Very advanced ventilation and internal dissipation, in addition you can install a fan to cool the hard drives and two 120mm fans in the upper compartment, possibly in input, thus creating the phenomenon of positive pressure.
Extreme possibilities: it's designed for liquid systems and it has holes dedicated for tubes in the back. At the base we can find a removable dust filter and a good management of dust in the power sector (though unfortunately we must unmount the power supply to clean it).
The connection panel can be hidden in the roof and although it is not updated to the new USB3.0 standard, it is very solid and well-conceived.
A good Hard disk management and accessible and functional anchoring system of 5.25'' units, unfortunately not tool-free but with anti-vibration strips that cover the entire contact surface of the hard disks. We suggest to screw them, even if is not necessary. The anchoring system of the expansion slots still uses dedicated screws (It's the same on the latest SilverStone models, and we hope it willbe replaced soon with a tool-less design, which should also allow a side installation of an SSD)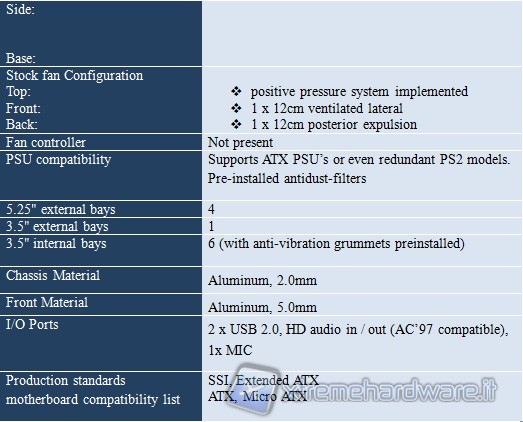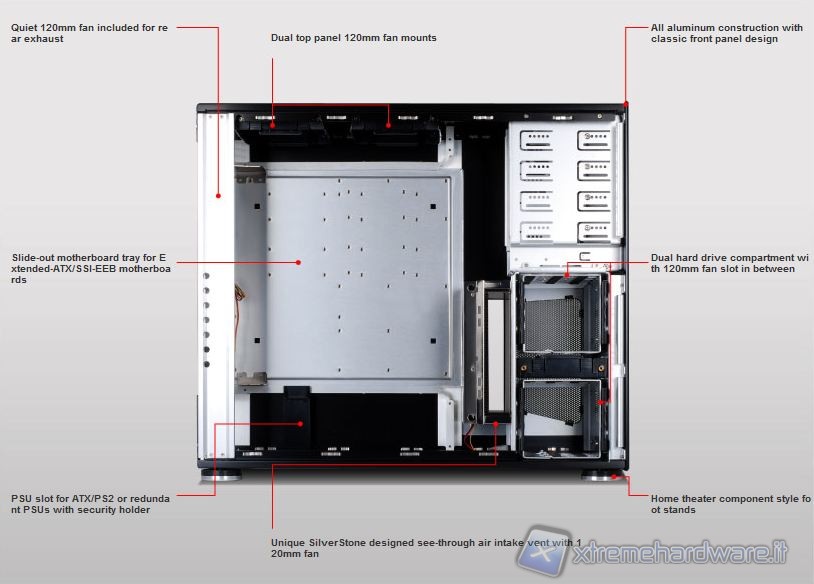 Direct link for the official support and Q&A:
We report some other SilverStone direct links, relative to some accessory kits, perfectly compatible with this model:
As announced, we will publish a further more detailed article about the TJ-09 very soon. Please stay tuned because we will review the windowed Silver Version.
Sugo SG08 Black. Positive pressure in a Mini-ITX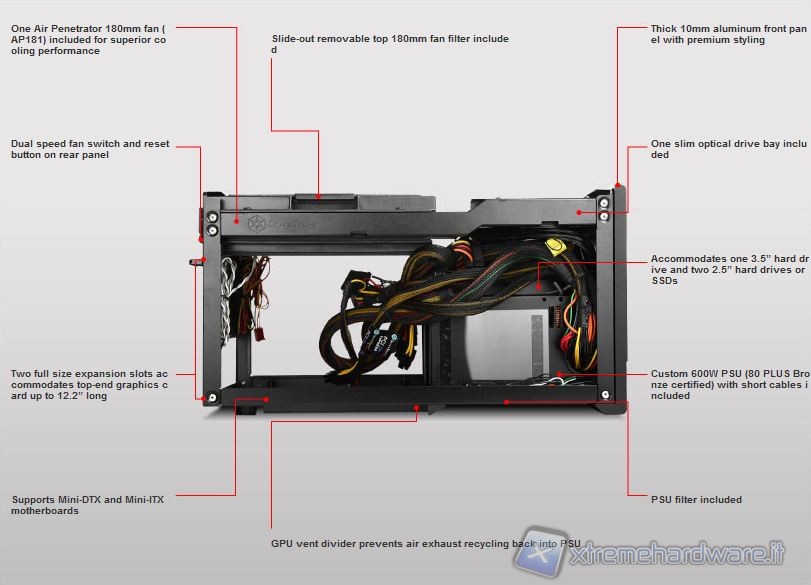 To further increase the appeal of the interesting Sugo SG07, SilverStone engineers have developed a new version, the SG08. For the first time in a SilverStone product, they used a 1cm thickness (0.4 in.) of extruded aluminum to adorn the front panel. Finished with a finely brushed and anodized surface, the front panel of the SG08 rivals the best home theater systems in terms of quality and style. There were many prizes won from the previous version and we've got all of the interesting features of the Sugo SG07 in a different and better revision, with the new and powerful Air Penetrator fan, the AP181 180mm, with two speed switch, an easy to remove filter, positive pressure layout and last but not least, the inclusion of a power supply with the 80 PLUS Bronze certification, and power up to 600W, with an interesting current rating. Although compact in size, only 14.8 liters, the SG08 is still able to accommodate a powerful choice of components. Even the longest graphics cards, up to 12.2 inches, are easily supported in this cabinet. This extraordinary capability, together with the cooling power provided by the adoption of the AP181 fan, makes the SG08, your best choice for a Mini-ITX chassis. Today we'll show you some of its features, which will be further analyzed in a more detailed article.
Cabinet SSF industry leader with a 180mm fan Air Penetrator for positive pressure. This feature will allow an enviable ventilation in such a small case
Space for the installation of a CPU cooler high up to 117mm. This will allow maximum performance even within a very small form factor.
Support for two 2,5" or 3,5" SSD / HDD.
Includes an 80 Plus Bronze 600W power supply, certified @ 50 ℃ and equipped with a single +12 V high current rail for dedicated graphics cards. You can install even an Nvidia GTX 480!
Possibility of setting a specific ventilation duct for graphics card to improve the overall cooling performance.
Removable filters for cabinet fans, for power supply and VGA included.
Supports long graphics cards (12.2'') and up to 400W of power consumption! Vary impressive considering the smallest form factor.
All aluminum construction with a 10mm thick plate at the front, for a unique and elegant design. Compatibility with Mini-ITX motherboards. Advanced Layout, rivets reduced to a minimum, and advanced management of internal compartments.
Style and finish conform to the highest SilverStone standards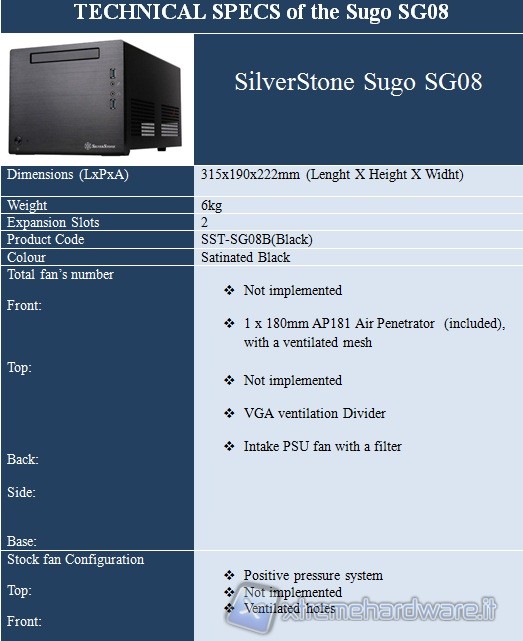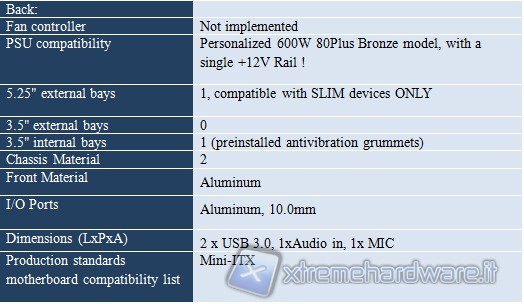 Direct link for the manual's download:
http://www.silverstonetek.com/downloads/Manual/case/Multi-SG08-Manual.pdf
We report some other SilverStone direct links, relative to some accessory kit, perfectly compatible with this model:

We will examine the SUGO Bag in the SG08 review, stay tuned.
As announced before, we will publish a further more detailed article about the SG-08 very soon. Please stay tuned as we will review the best mini-ITX system ever created.
Cooling and Revolution as priorities
The SilverStone R&D department constantly seeks forinnovations under the cooling and dissipation aspects. As we've seen in previous pages, and as we'll prove directly by presenting some our inner lab tests , the structure of a lot of these SilverStone models will permit a very advanced thermal management, especially regarding the video cards heat dissipation. In this video, as we 've previously shown, we will also report one of the most interesting aspects of this trademark, the positive pressure concept.
We also report a potential issue with this kind of cases, with the motherboard retention plate rotated by 90 degrees clockwise, an argument that our Xtremehardware staff have begun to analyze during the review of the SilverStone Raven 3, in another associated review:
Q1: I have a custom cooler, how do I know which way the heat pipes should be situated to obtain the best performance in the RV02-E?
A: There are two main types of heat-pipes used in popular aftermarket coolers, they are groove and powder. Groove heat pipes are very susceptible to gravity while powder heat pipes are less so. To achieve best performance in either heat pipe technology, they need to be placed horizontally or have the heat source side located below the other end of the heat pipe. We recommend choosing and installing components with heat pipes carefully by taking into consideration of the following examples:
Motherboard orientation in a normal ATX case: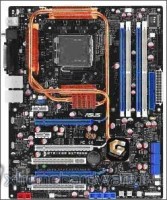 Motherboard orientation in a Raven series case:
As the illustrations above show, most enthusiast motherboards with heatpipes will work fine in the RV02-E and other SilverStone Fortress and Raven cabinet series, the heat source is located below other parts of the heat pipe. Many CPU coolers can be rotated when installing on motherboards, the illustration here shows a SilverStone NT06-E
CPU cooler:

Regarding the aftermarket VGA coolers, here we report a horizontal type, precisely a cooler that won't fit particularly well in our RV02-E, because of the positioning of the heat source, higher than the end itself of the interested heatpipe.
Source : http://www.silverstonetek.com/raven/products/r-qa.php?model=RV02-E&area=en
System and test methodology
We tested the temperature of the component installed in the cabinets presented in precedent pages, except unfortunately the Sugo SG08, because of the different test platform and also because of the total absence of mini-ITX systems based on X58 platform. We used the Thermalright TRUE Spirit 120 heatsink in the following system, with an ambient temperature of about 24.0 °C inside the cabinet (there may be a degree of variation in a positive or negative). We will use this heatsink exclusively in high performance mode with two fans from Prolimatech, the BlueVortex at 1550RPM. Tests will be carried out only in push / pull (P / Pull) to verify the performance of heat dissipation within the cabinet, and consequently to verify the type of dedicated airflow. It will also be used an EVGA GTX 480 with EVGA backplate and HighFlowBracket, with the reference heatsink; generally it's the video card that heats most of all, so it is the perfect candidate for the test. We will evaluate the temperatures of CPU, VGA and HDDs in each cabinet, obviously with fans at fixed RPM.
We chose to use a Core i7 920 D0 CPU because it can put a proper stress on the heatsink, thanks to its 130W TDP. Regarding the RPM values they can vary in the range of +/- 10%, as specified by almost all fan producers. However, minor differences between the speeds on the same fan do not change the overall result.
We measured the temperatures at idle and full load with the software Realtemp. The full load temperatures were measured after 25 minutes of Prime95 "InPlaceLargeFFTs" (maximum stress and consumption), benchmark known for its ability to stress the CPU heavily, much more than any video game. The thermal paste used is the Arctic Cooling MX-4. We emphasize that the procedure for measuring the temperature is very rigorous and each reported number is verified, recalculated if suspect, using additional tests; a lot of attention is also placed at room temperature (Tamb) so that the results are as realistic as possible, reproducible and fundamentally correct. You can be sure that what you read here, with the same configuration and settings match, within experimental error, it's the true value.
It was used a test session, with the following frequency:

Test results and Loudness
Note : our intention is to determine, in the best possible way, the efficiency of the cabinet's thermal dissipation so we've utilized a custom fan profile, to permit a more accurate evaluation of the temperatures.
In order to evaluate the best possible efficiency of heat dissipation of the case, we've used a custom profile with the graphic's card fan, with a fixed speed at 85%. We also tried to leave the "auto" profile, in order to assess the loudness of the overall system and the trade-off with thermal efficiency.
Temperatures TJ09S-W:
The fact that the TJ is able to achieve performance comparable to the Akasa Venom Toxic, which has an enormous open side window, is a very satisfactory result. It's pretty obvious that the ''Air Duct'' ventilation design have led, first, the reduction of the fans number inside the cabinet and, second, the improvement of heat dissipation performance. Regarding the hard drives we haven't got a so breathtaking result, as hoped, but we need to remember that it's possible to add a fan, and also improve the performance in this sector. This is also true for the CPU itself, given the absence of two fans on the top of the cabinet.
Temperatures FT02-LE:
We need comments? The highest performance ever achieved! A great case, especially for video cards. Thanks to the vertical orientation, even putting two GTX 480 in SLI, or any other video card in parallel, we don't encounter the phenomenon of higher temperature for the first video card, the one closest to the CPU, due to the fact that the heat tends to rise. Fantastic performance, only for this reason we should recommend the purchase.
Noise TJ09S-W:
The cabinet is very quiet, very low dBA given the number of fans included and given the characteristics of 1200RPM and only 21dBA.
Noise FT02-LE:
The cabinet is quiet when the three A181 fans are set to 700RPM, 18 dBA, otherwise you can clearly hear their 34dBA at full speed, which grants unparalleled performances. However there is a comfortable fan controller, and even with fans at 700RPM, temperatures will not be compromised at all.
Conclusion and a look to the future
We have arrived at the conclusion of this article. Undoubtedly it is useless to list again, or to present for the last time the reasons behind all our interest in this great brand, but we want to conclude with a consideration:

Since we are end users, what should a case manufacturer try to make?

Certainly they should try to satisfy the end-user to build unconventional solutions with non-repetitive and advanced technical features, and with an eye to the purchase price. Well, we have focused precisely on Silverstone because it's one of the most satisfying brands regarding all these demands, with the important basic principle that is to provide products with excellent build quality.

What does the future hold? Just a few pictures, we recommend that you get seated.

!

Here the smallest of Temjin series:

And in the following videos the Grandia GD07:

Regarding the cabinet considered today, what can we say? Qualitatively to the top, with a nice retrò design but always elegant and functional, equipped with advanced design features from the point of view of temperature control, and finally at a price balanced to what they offer, when precisely compared to the features.

We start from TJ09S-W, which is equipped with a convenient removable bulkhead and a proprietary system for optimizing the air flow in the direction of the video cards. All excellent features, but we have to point out some points that we were not convinced:

- Cable management definitely needs to be improved; we recommend the adoption of the thick rear space, and cable management system of the last Silverstone Raven03. In fact, large wires coming from the PSU, can even bend the right panel because of the small space available to accommodate them. We wonder why the designers didn't avoid this problem. Anyway, just pass the wires off in the front, and you will not encounter this problem.

- Installation of hard drives "sui generis"; we wonder why the connectors are located on the left side panel. Obvious the reason is to make the disassembly easier, but fast-swap solutions could have been adopted, like for the servers, or like in the last simile and amazing Silverstone FT-02. However, just reverse the position and you will solve the problem.

- Presence of two unpaired fans above, you can't mount radiators in the style of the corsair H100 240 x 120mm (length x height). It would be theoretically possible, but as it is not 100% compatible, we do not recommend it. Instead, 120mm x 120 mm(WxH) radiators are perfectly compatible, and recommended

The value for money is excellent and the price of 140€, considering the exceptional build quality, is very interesting. It will certainly be a good buy if you want a classic design cabinet in aluminum.

On the other hand, regarding the FT02, what we need to say? A wonderful example of what SilverStone is capable in the field of design, functionality, performance and layout, without mentioning the aesthetics that is very formidable. We do not add comments because it will be the subject of a next comprehensive review.,

Now we give a summary judgment also on the Mini-ITX Sugo SG08 enclosure, which also will be presented in an interesting review, soon. Even here we are before a flagship product that seems incapable to disappoint the audience. In fact, it comes with the best PSU for this power category, with the best fans around that grant an optimal ventilation, and it supports a good amount of hard drives . Despite this case is very small, it has an enviable height to grant compatibility with all the aftermarket coolers. The SilverStone Sugo SG08 can be defined as the most sublime, elegant and refined case in its category. Want more? We understand the need to go further and further, but in this case we cannot really complain.

With the FT01 on the other hand, we want to emphasize that the cooling solutions have been seriously treated by SilverStone. Its main feature is the presence of two 180mm fans that allow the adoption of a positive pressure system, well, what does it mean? This solution allowed us to keep the HR02 macho in passive configuration even overclocking a CPU i7 920 up to 3.2 GHz, at temperatures lower than many other non-passive heatsinks around! Absolutely spectacular. And it's bundled with comfortable and removable anti-dust filters, maximum support for the latest generation graphics cards, good cable management, good disks support, optimal temperatures, and finally excellent build quality, combined with a very low noise emission (

The last but not the least, the famous Raven RV03: aesthetically pleasing, although we know that it can be a subjective assessment, it has a rigid structure, except perhaps a feeling of too plastic-oriented, ''but'' with an excellent overall quality. We noticed also some internal small painting imperfections. Very remarkable the total amount and quality of the bundled fans, especially the 2 AP181, and many other 120mm fans accessories. Another interesting thing is the benefit of a truly exemplary cable management system, which we hope will become an absolute standard in the case industry. Really good management of hard disks, even if by force of circumstances, however, there isn't a fast-swap and tool-less system; compactness is significant, because it's just a Mid-Tower, and finally it presents an economical MSRP. The overall feeling is to have got a high-end case, however, except for the front of hard plastic that still has a very modern look.

Now we go to the final evaluation

We thank SilverStone for the received samples, precisely the TJ09S-W and SG08.

Trinca Matteo, Leonardo Angelini, Xtremehardware.it Staff